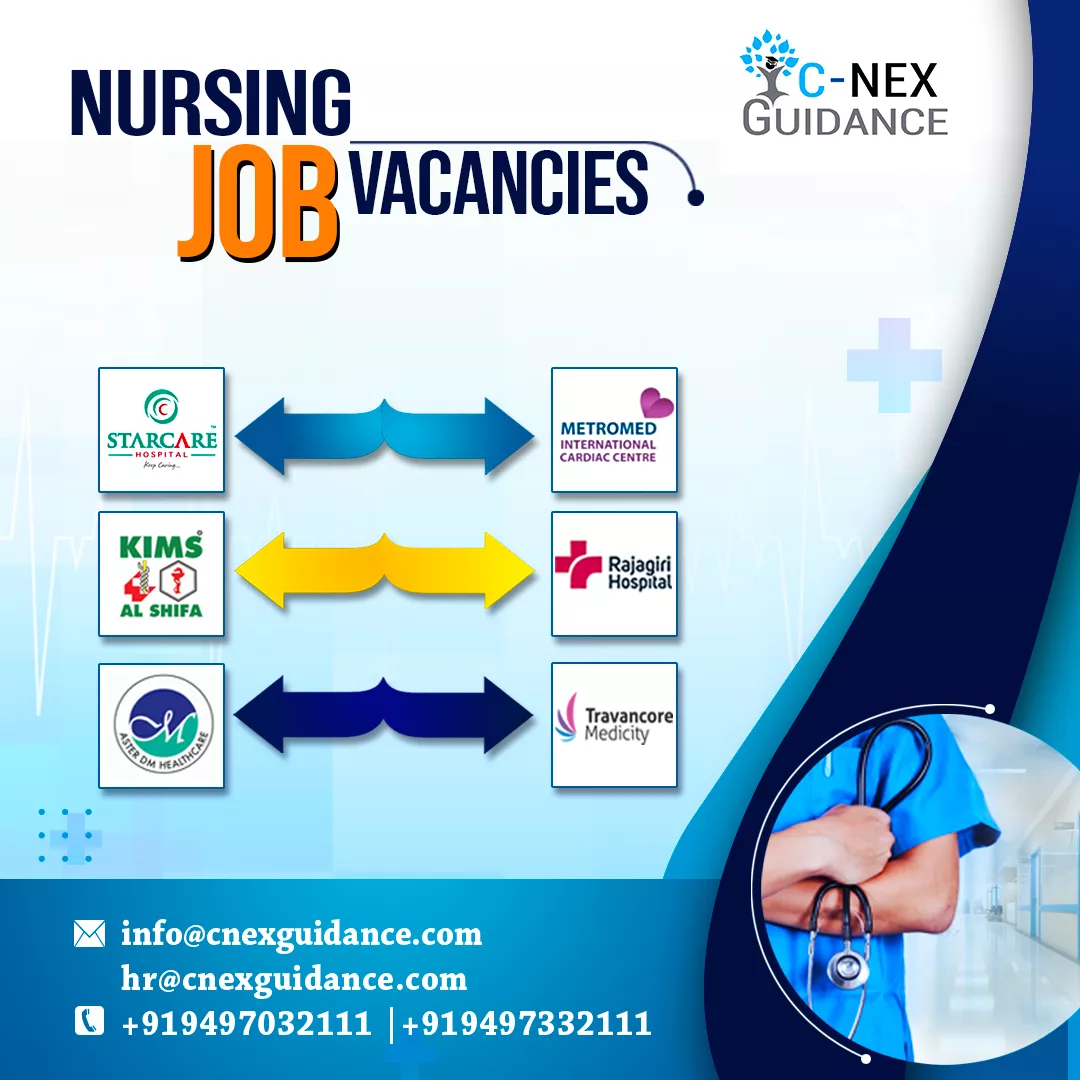 Nursing Jobs in Kerala
Posted by

Date

September 6, 2023

Comments

0 comment
Nursing Recruitment in Kerala by C-NEX Guidance
C-NEX Guidance, a prominent healthcare recruitment agency, has been successfully bridging the gap between nursing aspirants and renowned healthcare institutions in Kerala. With a keen understanding of the nursing job market in the region, C-NEX Guidance has been instrumental in helping numerous nursing professionals find suitable roles in top hospitals and healthcare facilities.
Our in-depth knowledge of the Kerala healthcare sector and our dedicated approach to finding the right fit for both employers and employees sets us apart. Through a rigorous selection process, our team at C-NEX ensures that only the most qualified and dedicated candidates are recommended to hospitals, reinforcing the high healthcare standards that Kerala is known for.
In addition to job placement, C-NEX Guidance also provides professional career counseling, helping nursing aspirants to navigate their career paths successfully. Whether you are a fresh nursing graduate or an experienced nurse looking for new opportunities, C-NEX Guidance provides comprehensive support throughout your nursing journey in Kerala.
Please fill in the below form to apply for Nursing Job vacancies in Kerala:
Nursing Jobs in Kerala
Kerala, often referred to as a paradise for healthcare, is well known for its advanced medical facilities and an impressive number of nursing schools. Nursing as a profession has been widely respected and valued in the region for decades, contributing significantly to its healthcare landscape.
Opportunities for Nurses in Kerala
As one of the most literate and health-conscious states in India, Kerala offers a plethora of opportunities for skilled nurses. With a booming healthcare sector, there is a strong demand for healthcare professionals, particularly nurses. They play a pivotal role in the delivery of healthcare services, working across various settings such as hospitals, clinics, nursing homes, and community health centers.
Hospitals such as the Rajagiri Hospital, Aster Medcity and Travancore Medicity Kollam are amongst some of the top employers for nurses in Kerala. These institutions offer not just employment but avenues for growth and professional development as well.
Rewards and Challenges
In terms of remuneration, Kerala maintains a decent pay scale for nurses. However, the job does come with its own set of challenges. The demanding nature of the work, long hours, and emotional stress are aspects that a nurse often has to deal with.
What sets nursing apart from other professions is the nobility and satisfaction that comes from serving and caring for the sick. It's a rewarding profession where one can make a real difference in people's lives.
The Future of Nursing Jobs in Kerala
Kerala's healthcare sector is witnessing dynamic growth and transformation. With the increasing prevalence of lifestyle diseases and a growing elderly population, the need for advanced and personalized nursing care is escalating. This presents immense opportunities for future nurses.
In conclusion, nursing jobs in Kerala offer a promising career with growth opportunities, decent remuneration, and job satisfaction. For those aspiring to make a difference in the healthcare sector, Kerala is a promising destination to embark on a nursing career. The investments in health infrastructure and the state's commitment to providing quality healthcare to all its citizens make it a favorable environment for nursing professionals.
For more information on nursing opportunities in Kerala, here are some helpful resources: