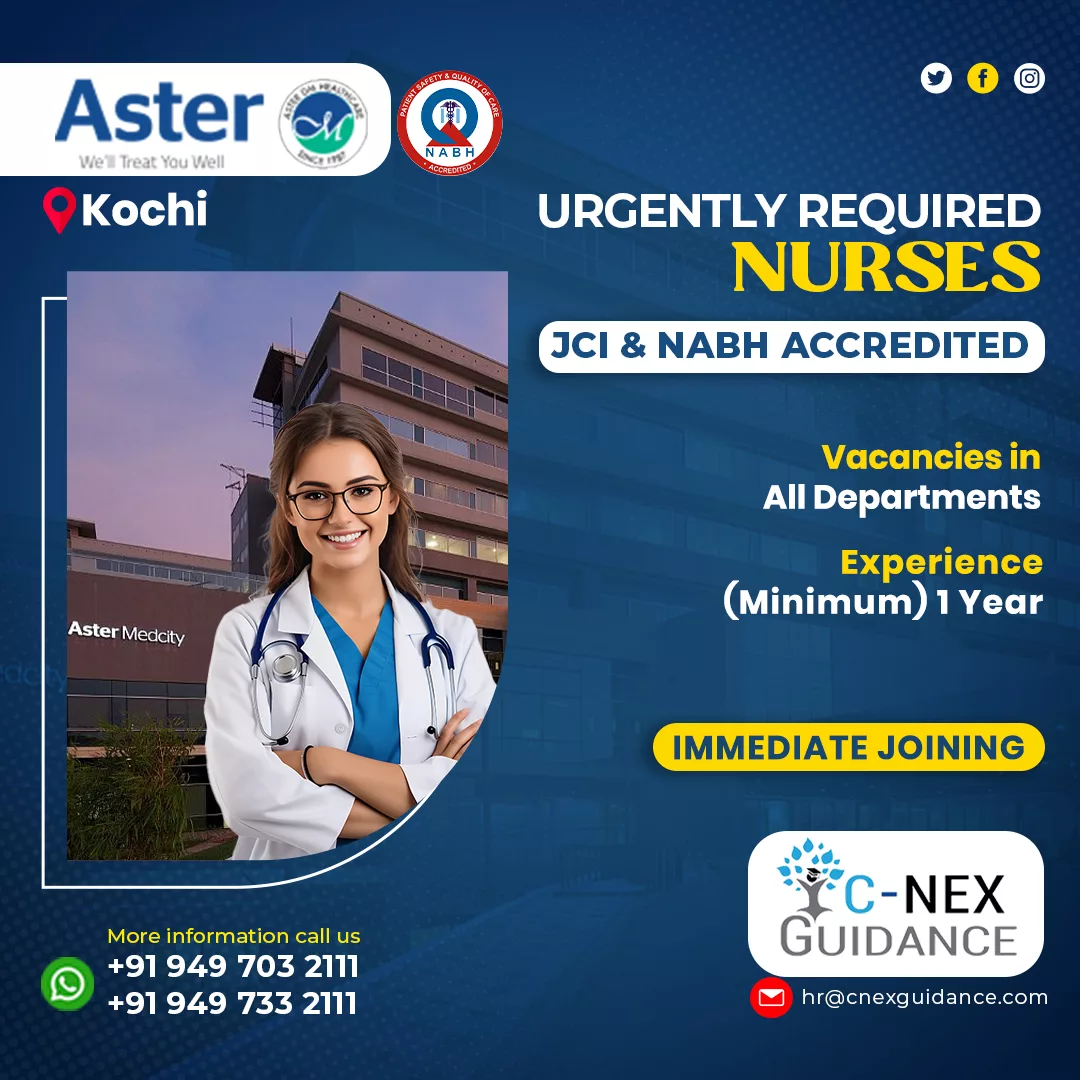 Nursing Recruitment for Aster Medcity, Cochin
Aster Medcity Hospital, Cochin – is looking for Experienced Nurses (1 year to 12 years)    –   M Sc/ B  Sc/Post B Sc/ GNM nurses to all departments
Direct/WhatsApp Interview
Immediate joining
Maximum gap allowed is 2 Years
Food and Accommodation available for female candidates.
Mobile/WhatsApp : 9497032111 / 9497332111
Please fill your details in the below form to apply for this job opening.
Are you looking for nursing jobs in Ernakulam? Come join us at Aster Medcity Hospital, Kochi!
Aster Medcity Hospital, Ernakulam has an established reputation of delivering quality and care in the medical treatment processes in Kerala. Being more than just a hospital, but a medical destination, Aster Medcity Hospital is built over a 40 acre property and houses speciality centres to extensively study the science of the human body.
Aster Medcity Hospital is now open for aspiring healthcare professionals who are looking for nursing jobs in Kerala. As a 670-bed quaternary care institution having a multi-focused range of treatment services, Aster Medcity invites both recent and seasoned nursing graduates to explore and contribute to the futuristic healthcare ecosystem of Kerala. Together with the technical expertise, Aster strives to provide a healing atmosphere that is upheld by the empathetic and altruistic team of medical personnel.
Numerous awards and certificates have been conferred upon Aster Medcity Hospital in Kochi in recognition of its conducive work climate and recovery setting that encourages innovation and personalized care. Certified by NABH for Nursing Excellence, we are offering nursing jobs in Kochi to individuals who are open to assimilate and continuously grow together with the technological interventions in the dynamic healthcare sector.
Aster is hiring across specialities like cardiology, orthopaedics, neurology, oncology, nephrology, gastro sciences as well as women's and adolescent health and the nursing vacancies in Ernakulam are not limited to general medicine or the above-mentioned areas. Aster Medcity looks forward to connecting with nursing graduates who resonate with our core values and vision.
Feel free to call us at +919497032111 or email us at hr@cnexguidance.com to know more about the job vacancies at Aster Medcity Hospital, Ernakulam.