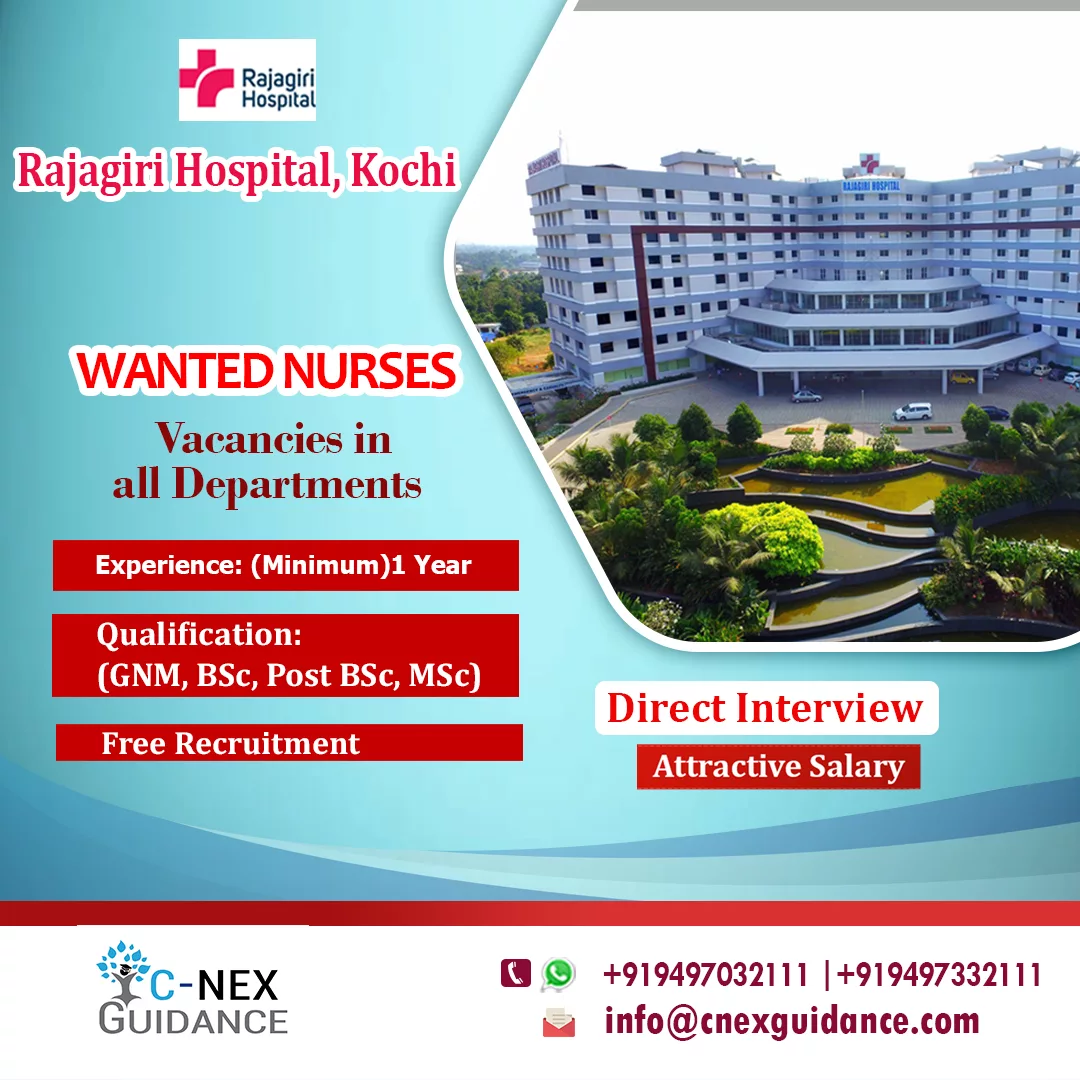 Nursing Recruitment for Rajagiri Hospital, Cochin
Posted by

Date

July 13, 2023

Comments

1 comment
Rajagiri Hospital, Cochin – is looking for Experienced Nurses (1 year to 15 years)    –   M Sc/ B  Sc/Post B Sc/ GNM nurses to all departments
Rajagiri Hospital is a prestigious healthcare facility in Kochi, Kerala. Since its inception in 1992, the hospital has been delivering high-quality medical care to the residents of the region. The hospital is a prominent medical care destination as it offers a wide range of medical services. Rajagiri Hospital is well known for its innovative technology and cutting-edge facilities. We have advanced medical technology, qualified medical specialists, and a dedicated nursing team.
To expand our team of nursing professionals, we are actively searching for committed, exceptional professionals. A plethora of nurse positions is currently available at the hospital in Ernakulam, Kerala. There are positions available for both seasoned nurses and those with minimal experience. The hospital offers excellent pay and benefits as well as prospects for career advancement. Additionally, the hospital is seeking expert nurses from different backgrounds.
Due to the top-notch working atmosphere and level of care provided, nursing jobs in Ernakulam are in high demand. The hospital is seeking nurses who have a positive work ethic, are committed, and are motivated. Additionally, the hospital is also looking for nurses who are eager to advance in their field.
The hospital is committed to offering advanced healthcare, and we are looking for nurses who can support us in achieving our objectives. Rajagiri Hospital is the ideal choice if you are a credentialed nurse looking for a lucrative and challenging career in a recognized hospital. See if you qualify for a rewarding career opportunity by reviewing our most recent nursing job openings in Ernakulam, Kerala.
Direct Interview – will be scheduled for shortlisted candidates
Immediate joining
Gap allowed
Mobile/WhatsApp : 9497032111 / 9497332111
Those interested in nursing jobs at Rajagiri Hospital , please fill your details in the below form to apply.