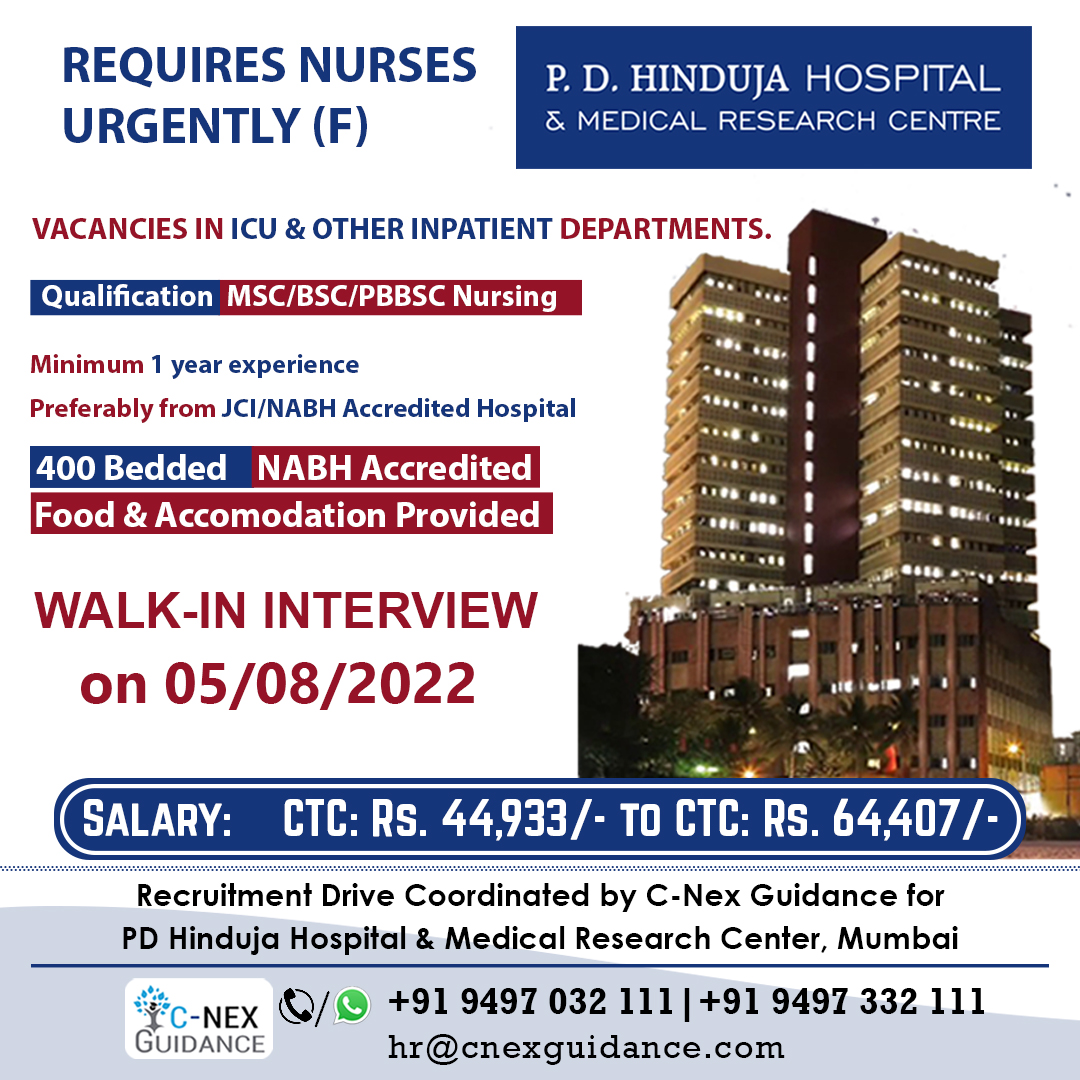 Nursing Recruitment -Walk-In Interview – P D Hinduja Hospital Mumbai
Posted by

Date

July 19, 2022

Comments

0 comment
P. D. Hinduja Hospital an NABH Accredited 400 bedded Hospital in Mumbai is looking for Minimum 1 year Experienced M Sc/B Sc/Post B Sc Nurses to all departments.
Salary : Rs 44,933/-  onwards
Walk-In Interview on 05th August 2022 at Kottayam.
Accommodation provided.
Please call/WhatsApp on below numbers for more details:
Mobile / WhatsApp : 9497032111 / 9497332111
Please fill in your details in the below form to apply for this job opening.
The P. D. Hinduja Hospital and Medical Research Centre is one of the best and leading multi-specialty hospitals in India which is located in the heart of Mumbai. It is a 400 bedded state-of-the-art hospital which has the latest healthcare equipments and renowned doctors to ensure the best possible medical care for the patients. Hinduja Hospital is ranked the 6th best hospital in India, 3rd best among the private hospitals in India, best in Western India, the best multi-specialty hospital in metros, and the cleanest hospital in Mumbai.
Hinduja Hospital holds many accreditations to its credit like CAP Accreditation, NABL – Certificate of Accreditation, IFCC certificate, HACCP, NABH Accreditation, ISO 27001: 2005 Certification. The details are furnished on the website and you may refer https://www.hindujahospital.com/about-us/quality-healthcare.html
The Hospital was awarded as the Best Patient Friendly Hospital in Maharashtra by the Association of Healthcare Providers (India) in 2022. Hinduja Hospital has also bagged many prestigious awards in the past for its excellent and perfect performance in the field of Healthcare.  Referring to the below link will give an insight into the prestigious awards bagged by this esteemed hospital. https://www.hindujahospital.com/about-us/awards.html
PD Hinduja hospital has come a long way in implementing the best international patient care practices and the milestones they crossed are highlighted on https://www.hindujahospital.com/about-us/milestones.html
Also, to get a brief overview of Nursing at PD Hinduja, please refer to the below link:  https://www.hindujahospital.com/nursing/index.html     
Hereby we invite applications from qualified Nursing Candidates who want to work in a challenging and rewarding environment that offers excellent career opportunities. Please apply in the below link and we will get back to you at the earliest.